Awards
In early 2016 we won the HEE London and South East Technology Enhanced Learning Prize. This was our poster.
Publications
Preston, I. Wilkinson et al The MDTea podcast – multidisciplinary healthcare education in the 21st century. Physiotherapy November 2016; 102 Suppl 1. E91-92.  Poster is here
I Wilkinson                The mdtea podcast – a novel means of educating multi-disciplinary teams about ageing? Age and Ageing, Volume 46, Issue suppl_1, 1 May 2017, Pages i28–i30
3. Article in Old Age Psychiatry News. An interview with Iain talking about how the podcasts came about and how we make them.
Presentations at Conferences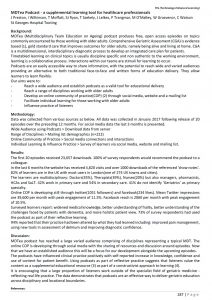 ASME – June – Exeter 2017 – MDTea Podcast – a supplemental learning tool for healthcare professionsals
J Preston, I Wilkinson, T Moffatt, SJ Ryan, T Szekely, J Lelkes, P Trangmar, M O'Malley, W Grosvenor, C Watson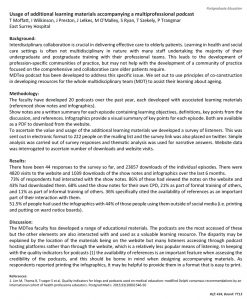 2. ASME – June – Exeter 2017 – Usage of additional learning materials accompanying a multiprofessional podcast
T Moffatt, I Wilkinson, J Preston, J Lelkes, M O'Malley, S Ryan, T Szekely, P Trangmar
3. Poster Presented at the 13th UK Dementia Congress