Presented by:
Dr Iain Wilkinson (Consultant Geriatrician East Surrey Hospital)
Dr Jo Preston (Consultant Geriatrician St George's Hospital)
Faculty:
Claire Gillespie, Nurse, Royal Sussex County Hospital
Dr Gabor Szekely, General Practitioner, Brighton
SJ Ryan, Physiotherapist, University of Brighton
Mary NÍ Lochlainn, Academic Clinical Fellow, Kings College Hospital London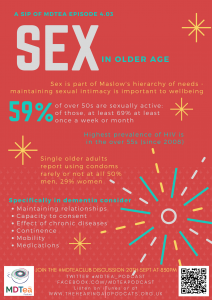 Broadcast Date: 12th September 2017

CPD log
Click here to log your CPD online and receive a copy by email.
Tweetchat #MDTeaClub
We will be hosting a 'journal club' type tweet chat to discuss topics raised in the episode on 20th September at 8.30pm BST using #MDTeaClub
Join us to discuss topics raised in the episode. We will post a chat summary here after it has taken place in case you miss it.
Social Media spots this week
Geriatrics for Juniors:
Geriatrics for Juniors 2017 is here! Saturday 4th November in Newcastle. See https://t.co/AKnciymDip for full details & registration.

— AEME (@ElderlyMedEd) February 21, 2017